The 10th Annual Completer Ceremony is coming up so marl your calendars! It will be taking place on June 15th, 2023 at Tompkins Cortland Community College's Gymnasium from 5-7pm! We hope to see you there!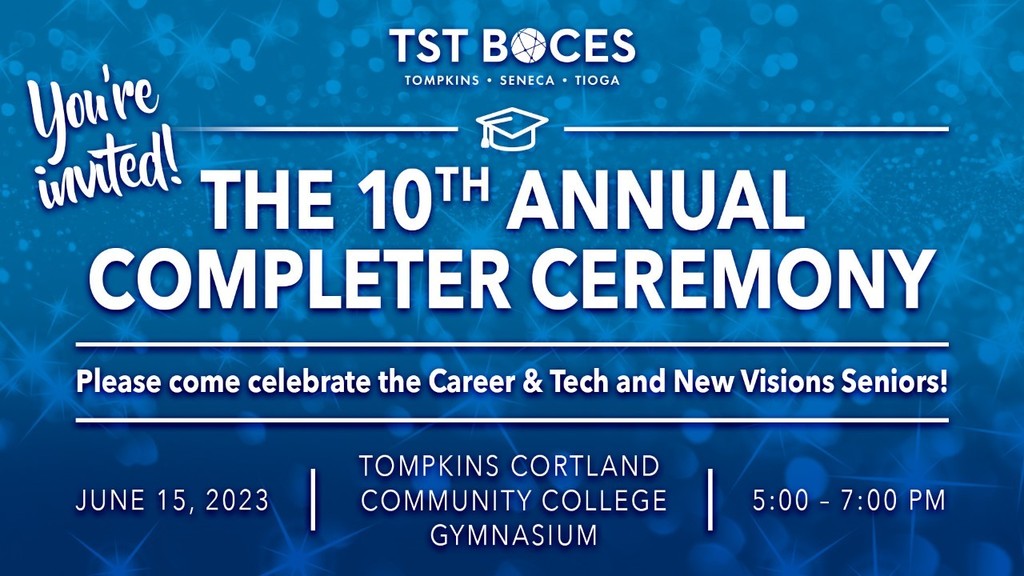 34th Annual Plant Sale coming up May 5th, 6th & 8th! @ TST BOCES Greenhouse 555 Warren Rd. Student Run Greenhouse offering Perennials, Annuals, Herbs, Hanging Baskets, Vegetables Cash or Check only Proceeds will be used to provide opportunities for all our students, and we thank you for your continued support!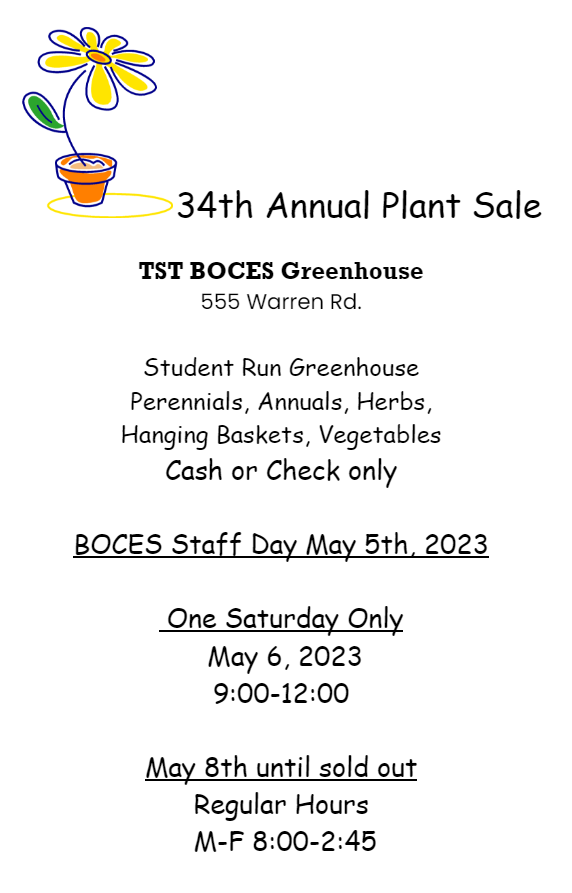 All TST BOCES Educational Programs including Adult Education will be closed tomorrow, Tuesday, March 14th.

It is that time of year again! 😊 🙌 New Visions Open Houses are coming up so mark your calendars! If you would like to learn more about our awesome hands on programs, please visit tstnv.org

Come join us at the Career and Tech Open House on March 16th! Doors open at 5:30pm-7pm, located at 555 Warren Road, Ithaca. We are so excited to introduce you to the world of hands on learning! We have Welding, Cosmetology, Digital Media, Animal Science and so much more!
We are proud to announce that Jennifer Merkle, Special Education Teacher for TST's Turning Point high school program, has earned the prestigious distinction of being a Nationally Board Certified Teacher (NBCT). Check out the full story on Jennifer's NBCT journey here:
https://www.tstboces.org/article/1023146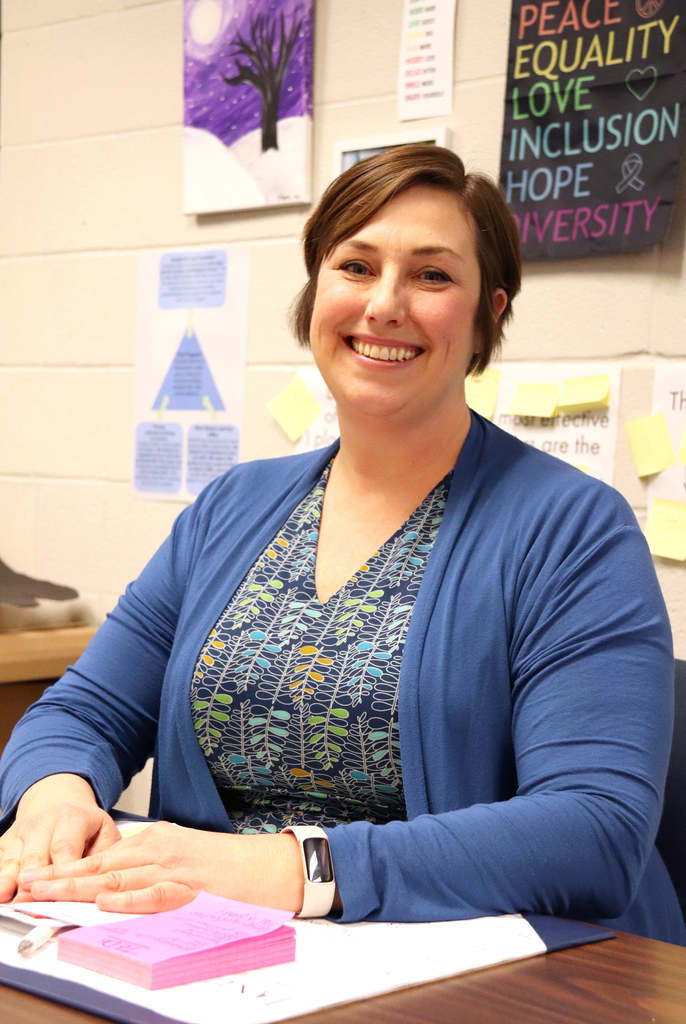 This week is School Counselor Appreciation Week! We thank you for all that you do! 😀👍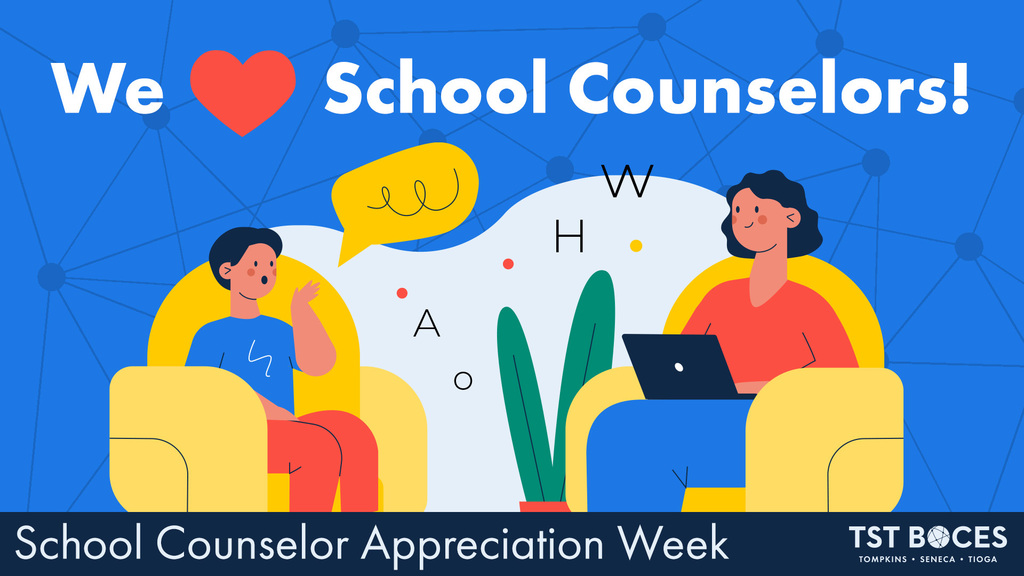 Congratulations to the three educators recognized for achieving their National Board Certification, including our very own Jennifer Merkle! National Board Certification is the highest certificate an educator can achieve in the US, and is Administered by the National Board for Professional Teaching Standards. Interested in becoming an NBCT? Let us help you:
https://www.tstboces.org/page/national-board-candidate-support-coser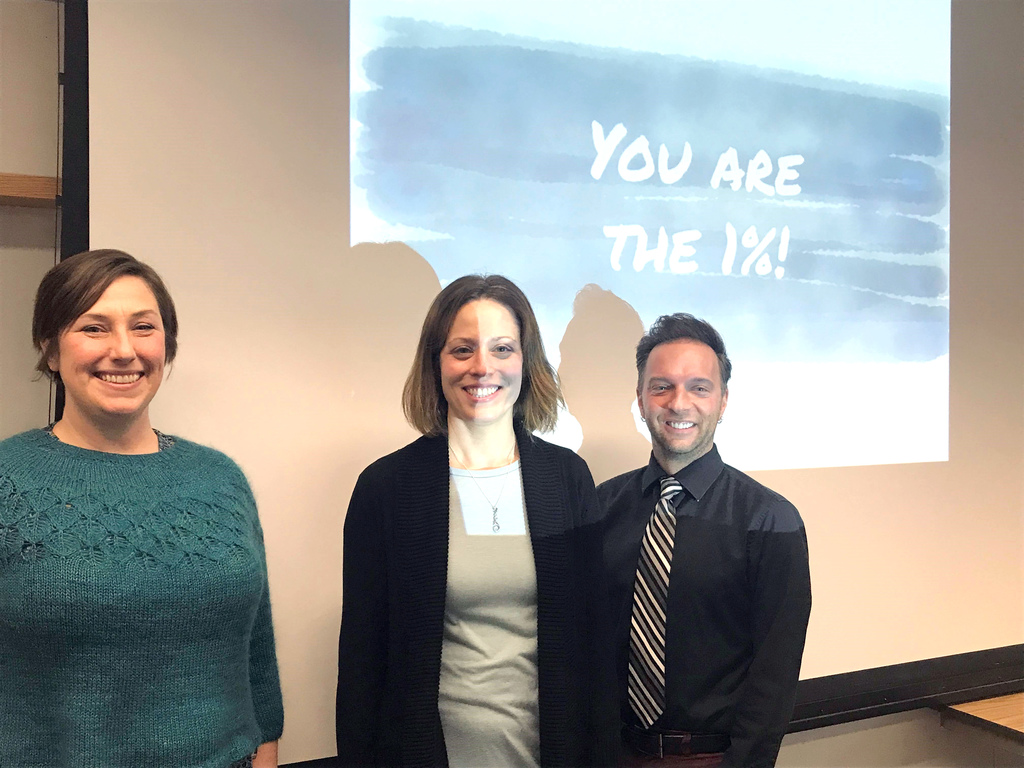 Area 2 SkillsUSA Competition will be held at SUNY Morrisville on Friday, Feb 10, 2023! 38 CTE students will be participating in this competition. Students from all of our 9 component school districts will be competing! Students participating in competition by class: Auto Body - Sawyer Updike - South Seneca HS Auto Body - Nathan Neiss - Trumansburg HS Auto Technology - Chris Welch - Dryden HS Auto Technology - Caiden Rider - Ithaca HS Computer Technology - Bryce Jauquet - LACS Computer Technology - Andrew Tomak - Lansing HS Cosmetology - Emmalyn Ingalls - Dryden HS Cosmetology - Anjolie Kwakye Minott - Ithaca HS Cosmetology - Emma Heasley - Lansing HS Cosmetology - Luciana Ray - Candor HS Criminal Justice - Ilana Lehmann - LACS Criminal Justice - Danyelle Tripp-Lumley - Dryden HS Criminal Justice - Chase Tibbals - Ithaca HS Criminal Justice - Antonio Arambulo - Ithaca HS Criminal Justice - Faith Bradford - RAS/Ithaca Criminal Justice - Angelous Santmyer - Trumansburg HS Culinary Arts - Morgan Winter - Trumansburg HS Culinary Arts - Kyra O'Toole - Ithaca HS Culinary Arts - Tabitha Gray - Newfield HS Digital Media - Riley Ferriss - LACS Digital Media - Morgan Ferriss - LACS Digital Media - Cole Rudert - LACS Digital Media - Nathan Halverson - Lansing HS Digital Media - Liane Jackson - Newfield HS Digital Media - Gray Larson - Lansing HS Early Childhood - Taylor Hemenway - Trumansburg HS Early Childhood - Le'Sean Lewis - Ithaca HS Heavy Equipment - Blake Dean - South Seneca HS Heavy Equipment - Austin Hunt - Groton HS Heavy Equipment - Tristen Price - Dryden HS Heavy Equipment - Ryan Ayres - Dryden HS Heavy Equipment - Laci Prignon - Dryden HS Heavy Equipment - Caleb Morris - Trumansburg HS Heavy Equipment - Austin Bailey - Ithaca HS Welding - Deegan Reed - Trumansburg HS Welding - Tanner Lansing - Trumansburg HS Welding - Zach Voorheis - Trumansburg HS Welding - Gaige Goodsell - Groton HS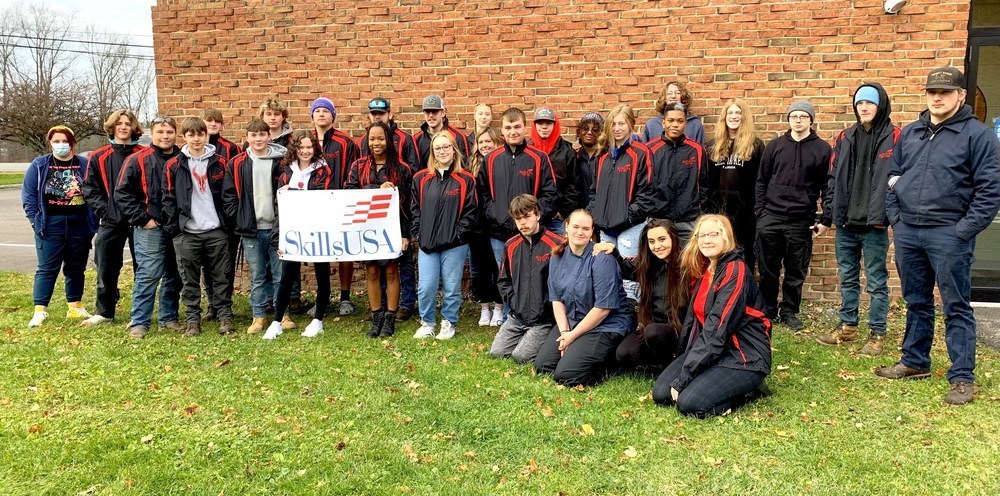 TST BOCES is on Two Hour Delay today January 23, 2023
New Mobile App Released!! We have released a mobile app that is a companion to our website. It is available in the App Store for iOS as well as the Google Play store for Android. Just search "TST BOCES". This provides easier access to news and events surrounding TST BOCES.

October 17 through 21 is School Board Recognition Week! Thank you for all you do for our TST Community: 💙Shannon Brock 💙Danielle Chase 💙Linda Competillo 💙Bradley Grainger 💙Linda Padgett 💙Linda Pasto 💙Melissa Rynone 💙AnnMarie Streeter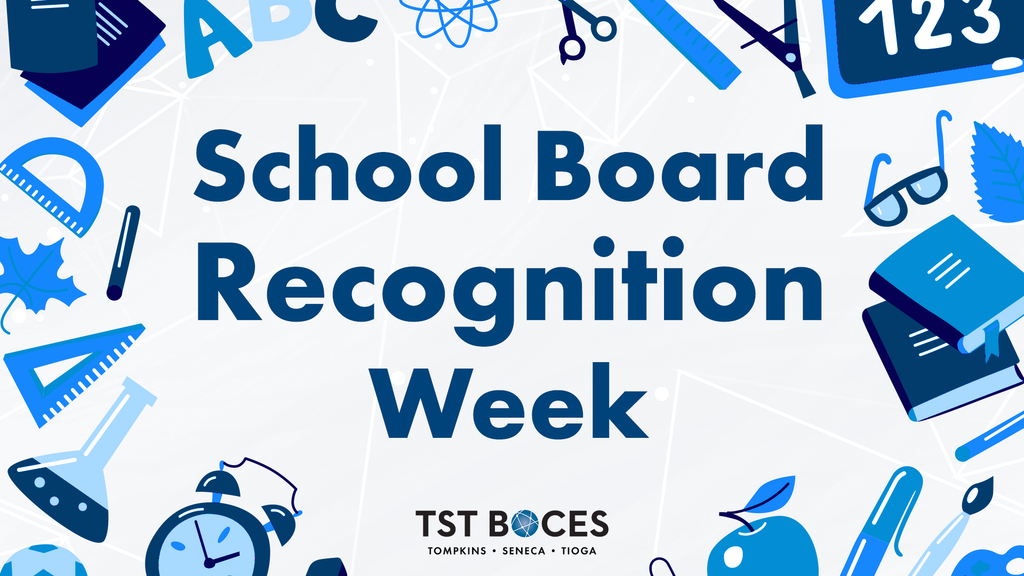 Calling all TST parents! Join us at our TST BOCES Fall Open House on October 12 from 5:00 to 6:30pm! Whether your student attends Smith School, Regional Alternative School or one of our many Career and Tech programs, come meet our instructors, tour program locations and learn more about the exciting school year ahead!

We are proud to be part of the 26th annual World of Skills Job Fair on Wednesday, August 31st, 9AM – 12 noon @ Hotel Ithaca Come meet over 30 attending employers looking for qualified candidates to fill open positions! Beechtree, Catholic Charities, Cayuga Addiction Recovery Services, Childhood Development Council, Cleantec Services, Coddington Road Community Center, Cornell University, Express Employment Professionals, Finger Lakes Independence Center, Hospicare, Hotel Ithaca, Ithaca Neighborhood Housing Services, JM Murray, Kendal at Ithaca, Lakeview Health Services, NY Army National Guard, OCFS Finger Lakes, Racker Center, Qualtek Wireless, Sunbeam Candles, Tompkins County, Tompkins Community Bank, Unity House, Workforce NY, YMCA, Youth Advocate Program, & many more…

ATTENTION LEADERS -- YOU DON'T WANT TO MISS THESE UPCOMING CLASSES! ANNUAL RECALIBRATION OF LEAD EVALUATORS: AUGUST 16 - AM AUGUST 16 - PM SEPTEMBER 6 NEW LEADER EVALUATION SERIES: AUGUST 2 AUGUST 4 AUGUST 24 AUGUST 31 AND 4 of the 6 available PLC sessions on Wednesday, September 7 - October 12 (9-10 am) Register in Frontline!